Monday we have seen the stock market as a whole trend downwards on economic fears with news of Evergrande, Chinas second largest property developer possibly facing bankruptcy. This is as the property developer has a payment deadline looming after they aggressively became one of China's biggest companies by borrowing $300bn.
Shares in Evergrande (3333.HK) has been in a rush to raise funds to pay many lenders, suppliers and investors. At close the shares finished 10.2% down at HK$2.28 a share on Monday after earlier plummeting 19%.
The first big test comes this week where Evergrande is due to pay $85.5 million in interest relating to its March 2022 bonds. It has another $45.5 million due on Sept 29th for March 2024 notes.
Growing fears of China Evergrande defaulting rattled global markets on Monday as investors worried about the potential impact on the wider economy dumped Chinese property stocks and sought refuge in safe-haven assets.
www.reuters.com
We may be surprised but Evergrande doesn't just do real estate.
They have subsidiaries in Sports, Automotive, Tourism & entertainment, Health, Media, Finance, Food and Music.
Even more worryingly is that this could have a domino effect across the world. Some of the largest emerging market funds such as Ashmore Group, BlackRock Inc, UBS Group and HSBC Holdings have a substantial amount of Evergrande Bonds which are already having a trickle down effect. With the infographic bellow showing the amount invested by the millions of dollars.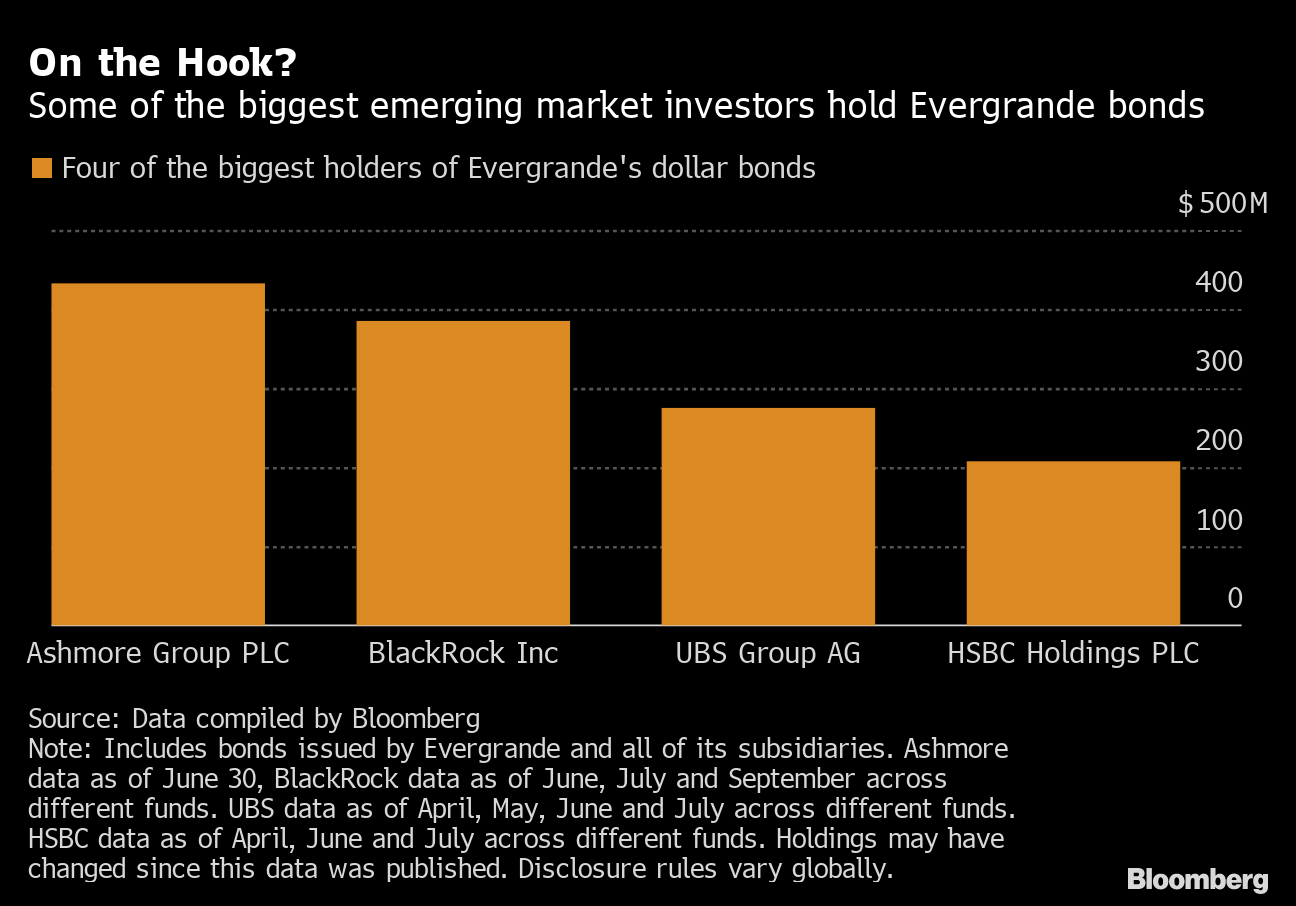 HSBC Holdings has around $200 million of Evergrande Bonds and as a result HSBC has halted mortgages for Evergrande projects in Hong Kong. It is believed other banks could follow suit in refusing mortgages for Evergrande properties.
HSBC Holdings Plc stopped providing mortgages to buyers of China Evergrande Group's unfinished residential properties in Hong Kong, according to people familiar with the matter.
www.bnnbloomberg.ca